Plumbing Supply
Plumbing Supply in Idaho Falls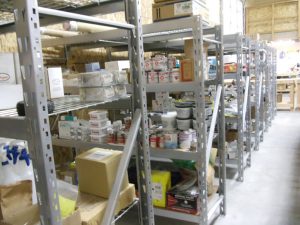 Finding plumbing supply in Idaho Falls has been a hassle in the past. With Eagle Rock Specialties in town, obtaining plumbing supply in Idaho Falls is now a breeze. With an extensive inventory on site, and knowledgeable professionals to assist you and answer questions, you're certain to find the parts you are in search of. If by chance you require an unusual piece, Eagle Rock Specialties will do the searching to locate the item and have it arrive as swiftly as possible and delivered directly to you. This amounts to less frustration and down time with your project.
Eagle Rock Specialties carries an LV-3 quality assurance rating from the government, enabling them to provide lab supplies for the Idaho National Laboratory. An LV-3 quality assurance rating means Eagle Rock Specialties has passed rigorous government testing and you will only find the highest caliber supplies for your all of your plumbing needs.
When you require a reliable source for plumbing supply in Idaho Falls, Eagle Rock Specialties has got you covered. Just need a couple of new fittings to fix a leaky drain pipe? No problem! Quantity isn't an issue whether you need one small part or enough plumbing supply to build a new house. Dedicated to working around your schedule, parts and supplies can be delivered around the clock, 24 hours a day so you can stay on track. Making your job easier is what ERS strives for, let us help you.
You'll find a wide range of tubing, pipe, valves, and fittings in the sizes you need and the material you want. PVC-CPVC, stainless, copper, it's all under one roof so you won't need to run around from place to place picking up pieces here and there or hoping you can find that one item you desperately need. Eagle Rock Specialties can get it.
Easy to find off of I-15 at 2299 W. Omni Drive, Eagle Rock Specialties is driven to be your number one outfitter for plumbing supply in Idaho Falls. Visit us on our website, stop in, or give us a call at 208-523-0283 for questions, we're here to help you.
---
PIPE
Steel, Black, &Galv.
PVC-CPVC
Stainless
HDPE
Pex
VALVES
Bronze
Iron
Cast Steel
Forged Steel
Stainless Steel
PVC-CPVC
Ball
Butterfly
Safety Relief
Solenoid
Needle
TUBING
Copper
Steel
Stainless Steel
FITTINGS
Malleable Iron
Brass
Forged Steel
PVC-CPVC
Copper
Stainless Steel
Pex
FLANGES
Forged Steel
Cast Iron
PVC-CPVC
HANGERS
All Thread Rod
Clevis
Riser Clamps
GAUGES
Digital
Pressure
Vacuum
Compound
SPECIALTIES
Air Regulator
Steam Traps
Air Filters
Relief Valves
Pressure Reg.
Flex Connectors
Vacuum Breakers
Transmitters
Actuation
Sensors
Flowmeters
Instrumentation
Pumps
Gaskets
Mechanical Seals
COMPOUNDS
Teflon Tape
Teflon Pipe Dope
Loctite
STRAINERS
Y & Basket
Iron Body
Brass
Steel
Stainless
PVC
MISCELLANEOUS
Quick Couplers
Dresser Couplings
Fuel/Oil Filters
Water/Air Filters
Paint & Paint Supplies
Carb/SS/Alum./ETC.
Plate, Sheet, Tube,
Bar, Angles, Rebar
Quality Fasteners
Railroad Supplies
Lumber
Auto Supplies
Electrical Supplies
Flex Hose, SST
Heating Equipment
Insulation
Custom Tapes
Bismuth
Motors/ Relays
---
MANUFACTURERS
A&K Railroad
AALBORG Flow Instrumentation
Abatement Technologies
ABB Inc.
ABZ
Accurate Screw Machine Corp.
Accu-Seal Corp
ADI Global
ADIT
Agilent Technologies
Airguard Air Filtration
Ajax Tools
Alaskan Copper & Brass
Alfa Aesar
Align Production Systems
Allied Healthcare Products
Alloy Machining
Alloy Valves & Controls
Alster Communications
Amada America, Inc
American Air Filters
American Chemical Technologies
American Crane
American Durafilm Co.
American Elements/Mereflex Corp.
American Packing & Gasket
American Seal & Engineering
American Seal & Packing
Americover
Ameridrives Couplings
Amerimax Home Products
Ametek
Ametek Precision Motion Control
Amirican Special Metals
Anderson Greenwood
Antcom Corp.
Anvil
Apollo
Areva Inc.
Armstrong
Ashai
Ashcroft
ATI Wah Chang
Aurora Pump
Autoclave
B-Line
Badger Meter
BASCO Container Products
Bell Structural Solutions
Bentonite Performance Minerals
Best Stainless
Betatronix
Bete Fog Nozzle, Inc
Billco Corp.
Bird-X
Bohle America, Inc.
Bonney Forge
Boston Centerless
Briskheat
Brownells
BS & B Safety
Buffalo Flange
Butech Bliss
Canberra
Carbo Ceramics & Tech.
Carlyle Johnson Machine Co.
Carver, Inc
Cash Valves
CCI Thermal Technologies
Cembre, Inc
Central Research Laboratories
Centronic LLC
Cherne IND.
Century Instrument
Ceramco, Inc
Ceramic Solutions
CGP, Inc
Chief Mfg
Cincinnati Valve Co.
Climax Portable Machining & Welding Systems
Cob Industries
Coilhose
Cole Parmer
Commercial Metal Forming
Conbraco
Condor Outdoor
Conductix Wampler
Control Devices
Copper State Bolt
Cordova Safety Products
Cotterman Company
Cox Flow Management
Cozy Products
Crane
Crane Energy
Crane Valve Service
Crosby
Crossfire Safety Glasses
Crystalcam Imaging
CSC Scientific
CS Unitec
CV Technology
Delta Controls
Draeger
Durex Industries
Dresser-Rand
DSI
Dwyer
Demco
Dezurik Valves
Dimplex Thermal Solutions
Dixon
Dura-Crete, inc.
Eagle Stainless Tube
ED Fagan Inc
Edge Eyewear
Edwards Vacuum
EGC Enterprises
Elasto Seal Inc.
Electro-Steam Generator Corp.
Emerson/Rosemount
ENFM-USA
Equipment Development Co.
Ernest Flow Ind.
Everlasting Valve Co.
Evoqua
Falcon Stainless
FanAir Company
Fastorq
Farmers Copper
Ferro Ceramic
Finewire
Fisher
Flanders Filters
Flexicraft
Flexitallic
Flow Safe
Flowserve
Fluke Electronics
Forfluids
Fort Wayne Metals
Frham Safety Products
Gai Tronics
Gamco
Gardner Denver
Gilman Precision
Global Technology Systems
G/O Corporation
Goodfellow Corp.
Graphic Products
Gravograph
GravoTech
Greatmats
Groth Corp.
Ground Hog Inc.
H2scan Corp.
Hach
Hansen
Hapman
Haynes International
Heidenhain Corp.
Heise
Hillas Packaging
Hilti
Holz Rubber
HTS/Amptek
Huskie Tools
Hydra-Power Systems
IAC Acoustics
Ice Ttekkers
Industrial Vacuum
Innovative Surface Solutions
Interface America's, Inc.
IRD Balancing
Jesco
John Crane
Jonathan Engineered
Kee Safety, Inc
Kennametal Stellite Inc.
Keystone
Kingston Valve
Koch Filter
Kunkle
Kurt J. Lesker
Lambda Square
Lanc's Industries
Lee Spring Co.
Leico Industries
Lemo
Leybold Vacuum
L P International
Ludlums Measurements
Lunkenheimer
Lyon Workspace
M & C Techgroup North America
Magellan Metals
Magna-Power Electronics
Magnatrol
Magnetic Shield
Marotta
Mate Precision Tooling
Material Resources Inc. Standon
Matheson
Mbraun USA
Mc Crometer
Mcdanel Ceramic Technologies
McNichols Co.
Megafab
Megellan Metals
Meggitt Sensing Systems
Micro Group
Microsemi Frequency and Time Corp.
Midwest Tungsten
Mini-Circuits
Mini-Flex Corp.
Moore Industries
MT Hood Fasteners
Munters
Nabell USA Corp.
Nalco
National Electronic Alloys
National Specialty Alloys
Nelson Stud Welding
Neptune Pump
Newport Corp.
NFS/RPS
NFT Inc.
Nikro Industries
Nilfisk Industrial Vacuum
Nochar, Inc
Nook Ind.
Nor-Cal Products Inc.
Nordstrom
Nuclear Power Outfitters
Nyad Process Gas Analysis
Oatey
Oerlikon
Omega
Osmose Utilities Services, Inc.
Otto Engeering
PAC Stainless
Palmer Wahl Instrumentation
Pawling Engineered Pruducts, Inc.
Penn Stainless Products
Pentair Valves & Controls
Pentair Water
Peterson Products
Petzl America
Piercan USA
Pilgrim Screw
Portland Fastener
Powell
PowerMate
PPG Paints
Precision Components
Proco Products
Progressive Surface
Pryamex Safety Products
Purolator Air Filtration
Radian Safety Products
Rasmussen Equip. Co.
Rego
Rembar Company
Renishaw, Inc.
Rexarc International
Rhenium Alloy's
Rice Lake Weighing Systems
Rodda Paint
Rolled Alloy's
Roth Pump
Roto-Disc, Inc
RP & C
RSCC Wire & Cable
RSR Group, Inc.
Sabic
Safway Scaffolding
Saint-Gobain Ceramic Materials
Saint-Gobain Performance Plastics
Saft America, Inc
Saf-T-Lok
Salt Depot inc
Seal Fast Inc.
Seal Science, Inc.
Sealcon
Senior Aerospace Metal Bellows
Senstar Inc.
Service Steel Aerospace
Servomex
Setra Systems
SEW Eurodrive
Sherwin Williams
SKC West
Smith Cooper / Sharp Valve
Snap-On Industrial
Snaptite
Sno Gem
Snow Gem, Inc.
Socket Products
Solon Manufacturing
Spartan Tools
Spirax Sarco
Spirol International Corp.
Spot Coolers
SPX/Waukesha
SSAB America's
Stainless Structurals
Stanley
Staubli
Stockham
Storage Battery Systems
Strongwell Corp
Sullair
Sun Gro
SureFire LLC
Sureseal
T & T Enterprise's
Talley
Technetics Group
Teledyne
Tessco Technologies
TestEquity
Texas Flange
Thermal Supply
Thermo Enviromental Instruments Inc.
ThermoFisher Scientific
Thermostatic Industries
Titan LED, Inc
Tobul Accumulator
TR Fastenings, Inc.
Trenton Pipe
Tri Nuclear Corp
True North Gear
Trystar, Inc.
Tube-Mac Industries, Inc.
Tulsa Tube Bending
Tyco
Tylok
Unifrax
Unistrut
UniTech Service Group
United Brass
United Filtration Systems
United Titanium
Universal Air Filter
Universal Alloy Corp.
USA Industries
USA Safety Solutions
US Air Conditioning
US Hose Corp.
US Valve
Utility Relay Company
Vac Industries
Vacuum Research
Valvtechnologies
Van Industries
Vantage LED
Vantage Vehicle
Vapor Power
Varian Vacuum
Varidesk LLC
Vat, Inc.
Vector Group
Vektek
Verder Scientific
Virginia Transformer (VAT)
Wacker Neuson
Watts
Wiley X
Wisconsin Stamping
Xchanger
Xebec Adsorption Inc.
Yaktrax
Yarway
Youngstown Glove Co.
Zircar Ceramics
Zircar Refactory Composties